WASHINGTON - The air in hundreds of U.S. counties is simply too dirty to breathe, the government said Wednesday, ordering a multibillion-dollar expansion of efforts to clean up smog in cities and towns nationwide.
The Environmental Protection Agency announced it was tightening the amount of ozone, commonly known as smog, that will be allowed in the air. But the lower standard still falls short of what most health experts say is needed to significantly reduce heart and asthma attacks from breathing smog-clogged air.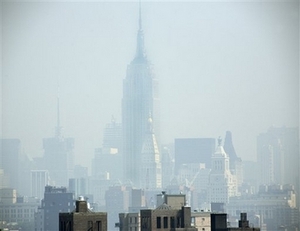 ©(AP Photo/Adam Rountree, File)
Smog covers midtown Manhattan in New York in this July 10, 2007 file photo. Some of the biggest lobbying forces in Washington are waging an intense campaign to head off tougher regulations on smog that health experts blame for hundreds of premature deaths to asthma and other respiratory diseases. The EPA within weeks will decide whether it should further reduce the allowable amount of ozone, a precursor of smog, in the air. The tougher standard would require hundreds of counties across the country to find new ways to reduce the smog-causing emissions to meet the revised federal health standard. Groups representing manufacturers, automakers, electric utilities, grocers and cement makers, met with White House officials recently in a last ditch effort to keep the health standard unchanged.

Comment: Interesting how smoking is always blamed as the key cause for respiratory diseases. Coincidence?