The drug-resistant "superbugs" that have cut a swathe through day care centers, schools, locker rooms and prisons across the United States in the last five years stem from one rapidly evolving bacterium, US scientists said Monday.
Scientists studying the genetic make-up of these bugs, which are resistant to almost all antibiotics, say they are nearly identical clones that have emerged from a single bacterial strain, which they have dubbed USA300.
"The USA300 group of strains appears to have extraordinary transmissibility and fitness," said Frank DeLeo, a researcher with the National Institute of Allergy and Infectious Diseases (NIAID) in Hamilton, Montana.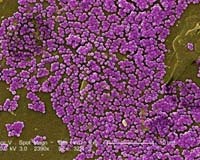 ©Unknown