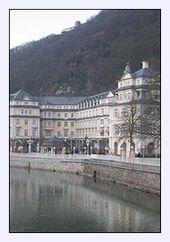 Caroline Wyatt checks into a German spa which offers a taste of Eastern asceticism and a minimalistic menu.
There is nothing, it seems, that European women would rather spend a great deal of money on than getting away from it all at a spa or health farm and as correspondent Caroline Wyatt discovers, the bill is often as painful as the rather intrusive treatments.
The brochure had a photo of a luxurious hotel, and all the buzzwords: revitalising, rejuvenating.
A detox. Well, I was not sure about a detox.
I like to tox, and I think my liver and kidneys do an admirable job, considering the challenges.
Apparently, the Maharishi Ayurveda spa offered daily full-body massages, with hot oil dribbled over the entire body, rubbed in by two people simultaneously.
I booked straightaway.