For months on end, Government institutions have claimed they do not hold any data on deaths by vaccination status. But they have been lying to you.
On the 6th July, a UK Government institution known as the Office for National Statistics, published a dataset on deaths by vaccination status in England between 1st January 2021 and 31st May 2022, which can be found
here
, and it makes for horrific reading.
Table 9 of the dataset contains figures on
'Whole period counts of all registered deaths grouped by how many weeks after vaccination the deaths occurred; for deaths involving COVID-19 and deaths not involving COVID-19, deaths occurring between 1 January 2021 and 31 May 2022, England'
.
Here's a snapshot of how the ONS presents the data -
Source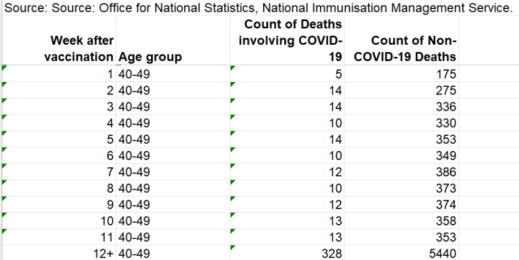 As you can see, the ONS still don't make it easy for us by revealing the overall number of deaths, but with some patience and simple maths we can easily find this out ourselves.