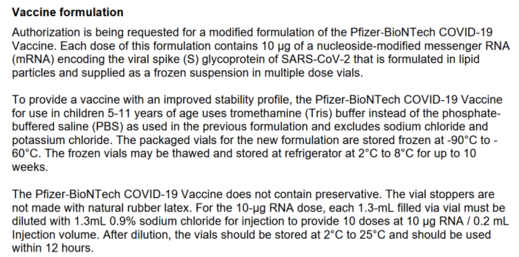 A document prepared for the FDA Advisory Committee meeting, in which members voted seventeen to zero in favour of giving emergency use authorization for the administration of the Pfizer Covid-19 injection to children aged 5 to 11, confirms that
Pfizer have modified the formulation of their injection for children to include an ingredient that reduces the acidity of blood and is used to stabilise people who have suffered a heart attack.
The
FDA Briefing Document
titled 'EUA amendment request for Pfizer-BioNTech COVID-19 Vaccine for use in children 5 though 11 years of age' states the following on page 14 -
"Authorization is being requested for a modified formulation of the Pfizer‑BioNTech COVID-19 Vaccine. Each dose of this formulation contains 10 μg of a nucleoside-modified messenger RNA (mRNA) encoding the viral spike (S) glycoprotein of SARS-CoV-2 that is formulated in lipid particles and supplied as a frozen suspension in multiple dose vials."

"To provide a vaccine with an improved stability profile, the Pfizer-BioNTech COVID-19 Vaccine for use in children 5-11 years of age uses tromethamine (Tris) buffer instead of the phosphatebuffered saline (PBS) as used in the previous formulation and excludes sodium chloride and potassium chloride".