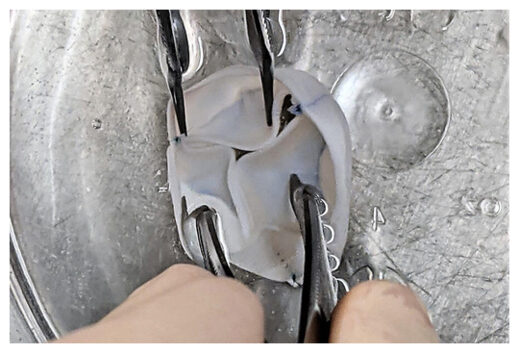 A groundbreaking new study led by University of Minnesota Twin Cities researchers from both the College of Science and Engineering and the Medical School
shows for the first time that lab-created heart valves implanted in young lambs for a year were capable of growth within the recipient.
The valves also showed reduced calcification and improved blood flow function compared to animal-derived valves currently used when tested in the same growing lamb model.
If confirmed in humans, these new heart valves could prevent the need for repeated valve replacement surgeries in thousands of children born each year with congenital heart defects. The valves can also be stored for at least six months, which means they could provide surgeons with an "off the shelf" option for treatment.
The study was published today in
Science Translational Medicine
, an interdisciplinary medical journal by the American Association for the Advancement of Science (AAAS). The valve-making procedure has also been patented and licensed to the University of Minnesota startup company
Vascudyne, Inc.
(Stillwater, Minn.).
"This is a huge step forward in pediatric heart research," said Robert Tranquillo, the senior researcher on the study and a University of Minnesota professor in the Departments of Biomedical Engineering and the Department of Chemical Engineering and Materials Science. "This is the first demonstration that a valve implanted into a large animal model, in our case a lamb, can grow with the animal into adulthood. We have a way to go yet, but this puts us much farther down the path to future clinical trials in children. We are excited and optimistic about the possibility of this actually becoming a reality in years to come."