Parents will be alerted this week to ensure children avoid artificial additives in drinks, sweets and processed foods because of explosive evidence about the effects on behaviour.
A plausible connection to tantrums, poor concentration and slow progress at school is understood to have been found in a study to be published by the Government's Food Standards Agency.
Food industry leaders have been summoned to a meeting with the FSA today for a briefing on the research and its implications.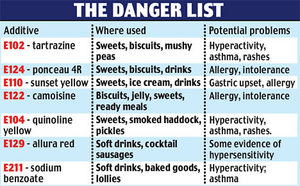 ©Daily Mail