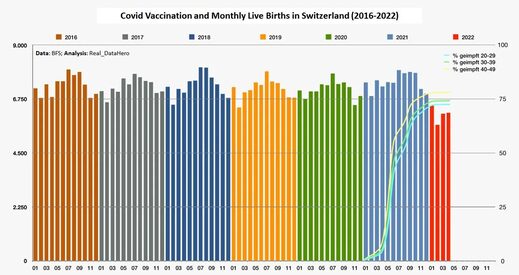 Why is there a substantial decrease in births in Germany and Switzerland - nine months after the beginning of covid mass vaccinations?
Do covid vaccines influence male or female fertility?
An Israeli study recently published in the scientific journal
Andrology
seemed to have
found a
15% decrease
in sperm concentration three months after mRNA covid vaccination. The authors argued the decrease was temporary, but the data didn't actually show a recovery, just a wider confidence interval.
However, the study was very small (just 37 participants), it had no control group (to exclude external effects), and several
other studies
found
no such decrease
in sperm concentration - some even found a
supposed increase
, highlighting the complexity of such measurements.
Thus, contrary to claims by some covid vaccine skeptics, the recent Israeli study didn't prove that covid mRNA vaccination reduces sperm concentration or quality. In fact, there is currently no strong evidence showing such an effect. On the other hand, a covid infection may
temporarily impact
sperm quality, but this is not unexpected after any infection or disease.
That being said, new birth data out of Germany and Switzerland raises some serious questions. Specifically,
both countries recorded a consistent 10% to 15% decrease (compared to expectations) in monthly births from January to March/April 2022 (the latest available data) - that is, precisely nine months after the beginning of covid mass vaccination in the general population in April/May 2021
(see charts above and below).