Narcissism is a personality trait associated with an inflated, grandiose self-concept and a lack of intimacy in interpersonal relationships. A popular assumption is that narcissists' positive explicit (conscious) self-views mask implicit (nonconscious) self-loathing. This belief is typically traced to psychodynamic theory, especially that of Kohut (1966; Morrison, 1983). Empirically, this view predicts that narcissists will reveal negative self-views when these are measured with unobtrusive instruments - such as the Implicit Association Test (IAT; Greenwald, McGhee, & Schwartz, 1998) - that record people's automatic, uncontrolled responses. Using the IAT, however, researchers found no simple relation between narcissism and implicit self-esteem (rs = −.13 and .03; Jordan, Spencer, Zanna, Hoshino-Browne, & Correll, 2003; Zeigler-Hill, 2006).1
According to another line of thought, narcissists' explicit self-views are not uniformly positive; rather,
narcissism is associated with positive self-views in agentic domains (e.g., status, intelligence), but not in communal domains (e.g., kindness, morality). Evidence for this idea comes from both explicit trait ratings, which show an association between narcissism and positive self-views only on agentic traits (Campbell, Rudich, & Sedikides, 2002), and from analyses showing that narcissism is particularly strongly associated with self-esteem measures that capture dominance (Brown & Zeigler-Hill, 2004)
. Bradlee and Emmons (1992) and Paulhus and Williams (2002) have also reported personality data supporting this distinction.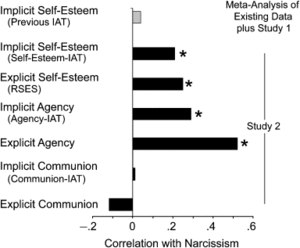 ©Campbell, W. Keith, Bosson, Jennifer K., Goheen, Thomas W., Lakey, Chad E. & Kernis, Michael H.
Fig. 1. Correlations between narcissism (the Narcissistic Personality Inventory; Raskin & Terry, 1988) and measures of explicit and implicit self-esteem, agency, and communion in Studies 1 and 2. Asterisks indicate correlations significantly different from zero, *p < .05, prep > .875. IAT = Implicit Association Test; RSES = Rosenberg's (1965) self-esteem scale.