"Alice laughed: "There's no use trying," she said; "one can't believe impossible things."

"I daresay you haven't had much practice," said the Queen. "When I was younger, I always did it for half an hour a day. Why, sometimes I've believed as many as six impossible things before breakfast."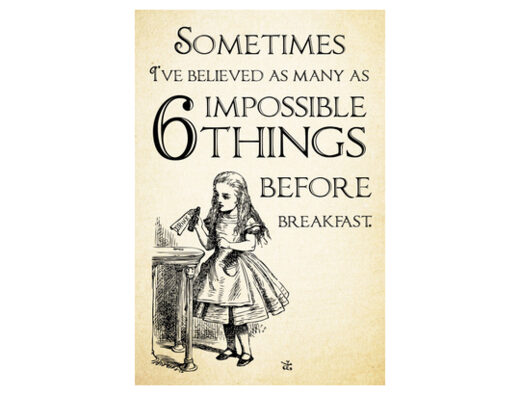 1:
'The Concept of Coronavirus Herd Immunity Is Deadly and Dangerous'
Since COVID19 first hurtled over the horizon, before landing upon us all with great force, I find that I have been asked to believe in many impossible things. First, I was told that attempting to create herd immunity was not achievable. It would also be extremely dangerous and would inevitably result in many hundreds of thousands of excess deaths.
Then the vaccines arrived at fantastical speed and I was told that mass vaccination, by creating herd immunity, would be the factor that would allow us to conquer COVID19 and return to normal life. I am not entirely sure which of these things is impossible, but one of them must be.
2:
'Vaccines, on the other hand, are believed to induce stronger and longer lasting immunity.'
I was then told the vaccine would provide greater immunity than being infected with COVID19. Which was interesting. I am not sure if this is actually impossible, but it seemed unlikely that anyone could make such statements after about three hundred people had actually been studied, and just two months had passed.
At the time I was aware of two people proven to have been re-infected with COVID19, out of about ten million cases. So, getting infected certainly seemed to provide a pretty good degree of immunity. A re-infection rate of 0.00005%
I also know that vaccinations can only ever really create an attenuated response. Whereas a full-blown infection triggers a full-blown immune response. So, I think it is pretty
close to impossible that vaccination can provide greater protection than that from getting the actual disease. Which is why I think it is utterly bonkers we are actually vaccinating people who have circulating antibodies in their blood.