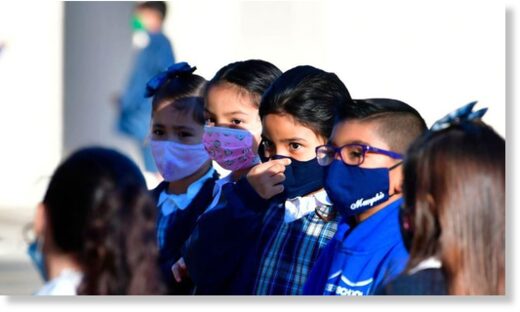 Many concerned parents are asking, "Should children wear masks?" A new scientific study may provide an answer. The newly released study found that kids shouldn't be forced to wear
face masks
because they can inhale unacceptable carbon dioxide levels after only three minutes of mask-wearing.
The findings, which were were published in
The Journal of the American Medical Association
, examined the carbon dioxide levels of 45 children in good health, ranging in age from 6-17, and with an average age of 10 years old. The clinical trial, titled "Experimental Assessment of Carbon Dioxide Content in Inhaled Air With or Without Face Masks in Healthy Children," claimed that the case for governments to mandate schoolchildren to wear masks is "weak."
The authors of the study noted that normal open air has approximately 0.04% carbon dioxide by volume (400 parts per million), and the German Federal Environmental Office states that the limit for closed rooms is 0.2% (2,000 ppm), and anything higher is unacceptable,
Fox News
reported.