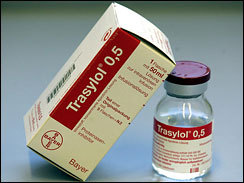 ©AP
A renowned researcher calculates that 22,000 patients could have been saved if the Food and Drug Administration removed the heart surgery drug Trasylol two years ago, when his study revealed widespread death associated with it.
The researcher, Dr. Dennis Mangano, also tells
60 Minutes
correspondent Scott Pelley that Bayer, the drug's maker, failed to tell the FDA about negative results of their own Trasylol study and that the company's failure placed the drug's success before patient well-being.
Mangano's interview will be broadcast this Sunday, Feb. 17, at 7 p.m. ET/PT.