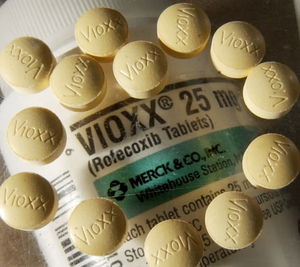 Australian courts
recently
ruled that Vioxx, a popular prescription painkiller, should never have been approved and allowed on the market. The case represents the world's first successful class action lawsuit against a drug company for damage caused by its drugs.
Merck, the drug giant that produced Vioxx, was deemed by the courts as negligent for failing to properly inform doctors who were prescribing the drug about the dangers and health risks associated with the drug. As a result, thousands of patients around the world have suffered severe injury or death because of Vioxx.
Graeme Peterson, a 59-year-old man represented in the case, was awarded the equivalent of about $266,000 for injuries inflicted upon him by Vioxx. He suffered a heart attack from the drug in 2003 that has left him unable to work since. He took the drug for more than four years, and still keeps a Vioxx tablet with him as a reminder of what almost killed him.