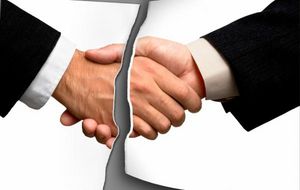 Scientists from the University of Zurich have discovered the physiological mechanisms in the brain that underlie broken promises. Patterns of brain activity even enable predicting whether someone will break a promise.
The results of the study conducted by Dr. Thomas Baumgartner and Professor Ernst Fehr, both of the University of Zurich, and Professor Urs Fischbacher of the University of Konstanz, will be published in the journal
Neuron
on December 10, 2009.
The promise is one of the oldest human-specific behaviors promoting cooperation, trust, and partnership. Although promises are generally not legally binding, they form the basis for a great many everyday social and economic exchange situations. Promises, however, are not only kept, but also broken. Material incentives to deceive are in fact ubiquitous in human society, and promises can thus also be misused in any social or economic exchange scenario in order to cheat one's interaction partner. Business people, politicians, diplomats, attorneys, and private persons do not always behave honestly, as recent financial scandals have dramatically demonstrated.