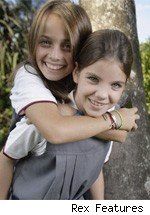 More and more girls are hitting puberty before the age of 10, while they are still at primary school, a Danish study has found.
A study of 1,000 girls found that breast development now begins on average a year earlier than 20 years ago - around the age of nine years and ten months.
The research underlines a long-term trend that has seen the average age at which girls start puberty falling sharply. In the 19th century it was around 15 - six years later than now.
Scientists yesterday spoke of the serious implications for girls' physical and emotional health. There are fears that early puberty could put girls at higher risk of breast cancer and heart disease because of the increased exposure to estrogen.