Avian influenza has been confirmed at a large chicken farm near Regina, officials with the Canadian Food Inspection Agency said Thursday.
The H7N3 strain of the virus found at Pedigree Poultry at Regina Beach is fatal to birds, but is not dangerous to humans, the agency said. All 50,000 birds at the farm will be destroyed with carbon dioxide gas over the next few days.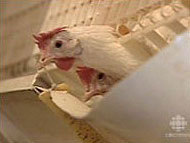 ©CBC
Saskatchewan farmers produced about 23 million chickens in 2005, according to the provincial Agriculture Department.