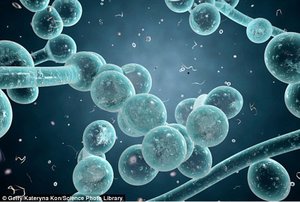 Fungal infections caused by Candida are the most common type of fungal infections in the world. Fiercely opportunistic, Candida is a part of everyone's intestinal flora. It doesn't actually cause problems unless it takes over and crowds out the good bacteria. Then it causes numerous health issues. Four different species of Candida make up the majority of fungal infections in the United States:
Candida albicans,
Candida tropicalis
,
Candida glabrata
, and
Candida parapsilosis
. If you catch them early, most of these Candida infections can be taken care of with an adjustment in diet.
A Possible Scenario
The conventional medical treatment for Candida involves pharmaceuticals. Somewhat effective in killing Candida, these drugs also kill other microbes in the intestinal tract and leave you without enough beneficial bacteria to fight off other new infections.
The Center for Disease Control has issued a clinical alert to U.S. healthcare facilities asking them to be on the lookout for one such infection associated with high mortality, a resilient species of yeast called Candida auris that has shown resistance to three major classes of antifungals.