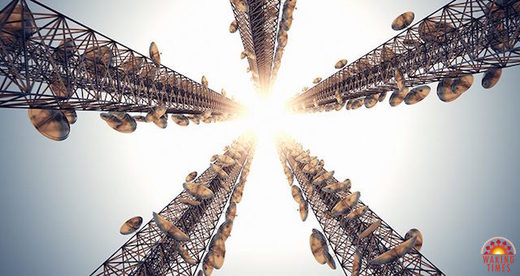 The FCC (Federal Communications Commission)
is pushing to
streamline the approval of 5G cell towers, overriding the little regulation that exists to legalize use of experimental high frequencies without extensive safety testing. Untested frequencies in the range of 28 gigahertz to 100 Ghz or more are set to be deployed all around us without our consent, emanating from an even greater number of new, smaller cell towers.
"To make this work, the 5G buildout is going to be very infrastructure intensive, requiring massive deployment of small cells." ~Tom Wheeler, Former FCC Chairman and corporate lobbyist
Some are talking about using
even higher frequencies
, in the terahertz range, much higher than previous networks.
A recent
statement
from
Take Back Your Power
says:
"US FCC wants to "streamline" the approval process for DAS (Distributed Antenna System) 4G/5G ubiquitous cell towers by exempting them from the 1996 Telecommunications Act!

And the US Senate will imminently be voting on S.19 and S.88, to expand DAS 4G/5G deployment!

If such efforts succeed, millions of small cell towers (on existing light poles/utility poles, or new ones) will be deployed everywhere, throughout residential neighborhoods. The millimeter microwave radiation deployed will produce horrific health effects, worsening EVERYONE's health, and will remove the remaining pollinators. It's THAT serious. The bees in particular will die off rapidly, per studies of bees and microwave radiation."