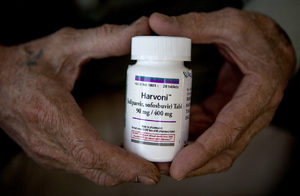 The sicker you get, the richer they become.
The campaigns are everywhere. On ABC, NBC, CBS and FOX, Animal Planet, the Game Show Network and Syfy. In
People, Popular Mechanics
and
Better Homes and Gardens magazines
. On the radio and along subway lines. If you were born between 1945 and 1965, you could have Hep C, screams Gilead Sciences, which makes the Hep C drug Harvoni.
The campaign seeks to sound like a message from the Centers for Disease Control and Prevention addressing public health. But the Hepatitis C "facts" resulting from an internet search are paid searches from Pharma, not from public health agencies.
Is there new information that shows baby boomers are newly prone to Hep C? Why have we not heard from the "CDC" about this pressing public health threat until now? There is new information--sales information that Gilead Hep C drugs are "plummeting" and new markets are needed.