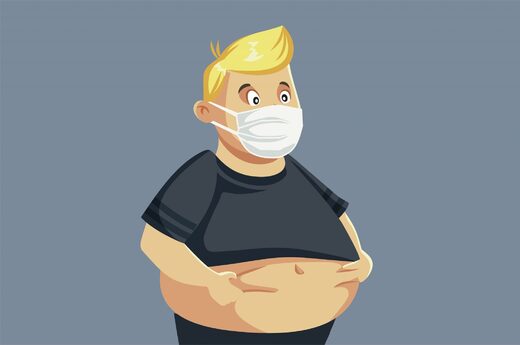 The best thing you can do to fight Covid-19 might be just to become less fat.
The media, U.S. Centers for Disease Control and Prevention, and World Health Organization (all really covering themselves in glory over the past year) have declared the variants of Covid-19 a veritable alphabet soup. Of course, we've got
Delta from India
, which the CDC labeled "a variant of concern" in June, and which we've heard lots about since. But there are other "of concern" viral pasta bits, too, from all over the world. There's Alpha, which first appeared in Great Britain. And there's Beta, which popped up in South Africa. Then there are not one but two Epsilon variants, spotted first in the U.S. Plus there's a Gamma found in Brazil.
Served this dish it is time to stop eating. Here's a slogan, some advice, and I plan to take it, too: Lose 15 pounds to slow the spread. By now we've all seen
reports of breakthrough cases
, where fully vaccinated people not only test positive for Covid-19 but experience substantial symptoms. The present and the future is beginning to look like ever-multiplying variants of the virus, many of them more contagious, with some vaccine-resistant. This seems to be the natural outcome of current selection pressures.