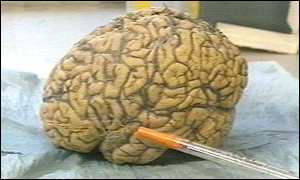 ©BBC
Damage to the brain can change behaviour.
Anti-social behaviour may be linked in some cases to brain damage suffered as a child, researchers have found.
A team from the Institute of Child Health has found that brain damage inflicted on a specific area of the brain can lead to serious anti-social behaviour in puberty and adulthood.
The discovery raises the possibility that
brain scans could be used in future to determine which people are most likely to suffer from long-term behavioural problems following an accident.