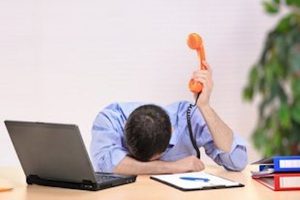 Terrible news for the majority of us who spend long periods glued to our desks.
In 1960,
approximately 50 percent
of U.S. jobs required heavy to moderate physical activity. Today, that number stands at just 20 percent, meaning approximately 80 percent of jobs are almost wholly sedentary or demand minimal physical exertion. The vast majority of us spend the bulk of our workdays being mostly immobile, glued to our chairs and desks. That inactivity is part of why we've become
one of the fattest nations in the world
. Obesity is connected to a number of health risks, but there are far greater consequences to our stationary lives. A new study finds that regularly sitting for hours on end can ultimately lead to premature death, and those potentially lethal effects can't be countered with frequent exercise.