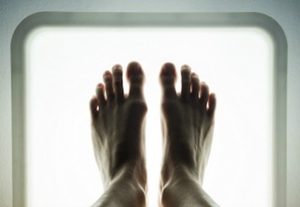 For all the focus on hearts and arteries, brain tissue and muscle mass, we tend to neglect one critical part of the body with dramatic influence over how we fare in later decades. It's little surprise really. Feet don't exactly garner much attention, let alone media time. Yet, the stakes are big.
For example, research shows that foot conditions like hallux vagus (HV, a common forefoot deformity in older people commonly referred to as "bunions") was directly associated with marked decreases in quality of life. Foot pain, reduced foot function, lowered social capacity, and even degraded general health. That sort of thing.
But that's just one foot condition, right? Yes...and no. The picture of averages looks rather bleak.
A
clinical assessment
of 166 Hong Kong hospital outpatients over the age of 65 found that 70% of those patients had some sort of foot condition. In the U.S., things aren't much better. While
surveys
have shown extensive variability in reports of foot problems (anywhere between 30% and 95%), other research points to more dramatic prevalence of what I'd consider significant problems. Large-scale, random epidemiological studies aren't available without confounding factors that muddy the waters. Still, one extensive European study
found
that 78% of people over 65 suffered from kind of diagnosed foot issue. Even at the most conservative of estimates, that means a minimum of one third of all Americans over 65 will have some form of debilitating foot disorder. And the worst part? Many of the studies discovered that only a small percentage of these people actually report or complain about their foot problems. Apparently, for them it's just a fact of life.
But most of us here choose differently for ourselves. We prefer to challenge that fatalist "come what may" approach to aging. Feet shouldn't be an exception. In fact, given the statistics, they might well be a smart priority.