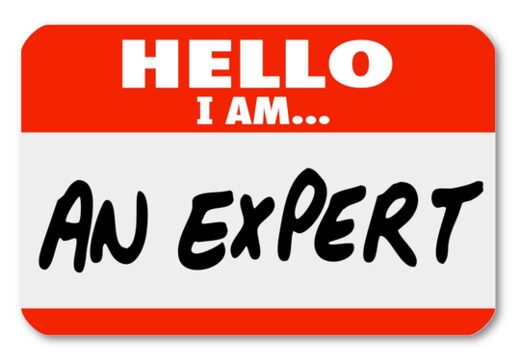 The COVID19 pandemic has thrown an issue into sharp focus that I have been observing for many years now. What is an expert? The simple answer is someone who has expertise. Deep knowledge of a subject that has been gained by spending many years researching, reading, speaking to colleagues, and suchlike.
However, that is clearly not enough. I have spent years researching cardiovascular disease. I have written papers about it, written books, given lectures... but I have never been referred to, by any in mainstream medical research at least, as an 'expert'. I am very much something else. A maverick, a denier, zealot a ... [insert insult of choice here].
I used to joke that there must be a secret expert exam that you have to pass in order to be called an expert. Or perhaps it's a bit like the Freemasons. Someone has a quiet word in your ear to sound you out. Then asks if you would like to join the international brotherhood of 'experts.' Dedicated to something, or other.
Very soon, after the COVID19 pandemic struck, Imperial College Business School had this to say on experts:
'In 2016, when Michael Gove made his famous statement that "people in this country have had enough of experts", it seemed experts and expert knowledge were on their way out. The opinion of populist politicians and online influencers were deemed much more relevant to decision making than the findings of scientists or the theories of economists. From the antivax movement to newly resurgent creationists, the spirit of the times was very much against the expert. Science and its evidence-based rationality were in retreat and the trend seemed unstoppable.

Fast-forward four years and the world is suddenly a very different place. Experts like Imperial College London's Neil Ferguson, and Peter Piot from the London School of Hygiene & Tropical Medicine are now central advisors to government and the profiles of experts are the material of front-page stories. With the arrival of a global pandemic, experts are back - and with a vengeance!

So, what has changed? And what can we learn from the recent success of the experts who are shaping government policy on coronavirus? First, the experts who are currently leading the government's policy response to the pandemic are not just experts, they are leaders. They know that simply understanding a topic deeply and having something to say on an issue is not enough.'
Etc. etc, glory glory Imperial College
1
.
I found the final sentence interesting.
'They know that simply understanding a topic deeply and having something to say on an issue is not enough.'
In short, to be an expert you must also be a leader? I think this is probably true .... You certainly have to be at the top of some organisation or other.