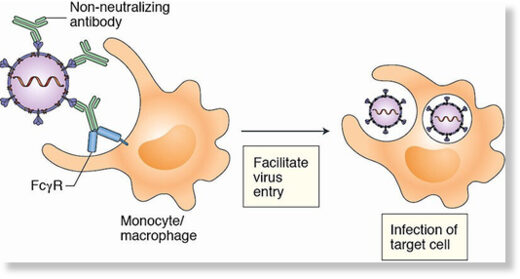 Will a vaccine to SARS-CoV-2 actually make the problem worse? Although not a certainty, all of the current data says that this prospect is a real possibility that needs to be paid careful attention to. If you stay with me, I'll explain why.
First, let's set aside the debate surrounding the topic of whether vaccines work and the negative health consequences due to the components of the vaccine. No matter where you stand on the vaccine issue, I'm not asking anyone to capitulate on this point. I'm just asking that this issue be set aside, because in this instance this argument is completely irrelevant. Even without bringing any other issue into the vaccine debate, a coronavirus vaccine is a highly dangerous undertaking due to a peculiar trojan horse mechanism known as Antibody Dependent Enhancement (ADE). Regardless of someone's conviction about vaccines, this point needs to be acknowledged. In the remaining portion of this article, I'm going to explain how ADE works and the future perils it may bring.
For a vaccine to work, our immune system needs to be stimulated to produce a neutralizing antibody, as opposed to a non-neutralizing antibody. A neutralizing antibody is one that can recognize and bind to some region ('epitope') of the virus, and that subsequently results in the virus either not entering or replicating in your cells.