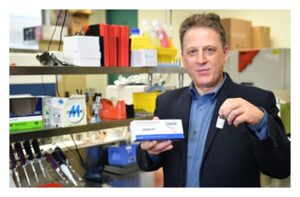 Who knew?
The first traditional vaccine for Covid that's based on protein anywhere in the world has been approved for use. It was designed in Australia, but can't be used here.
The Professor of the team that invented it received no help from the Australian Government, and is about to be
sacked from Flinders University
because he won't take the mandatory Pfizer, Astra Zenica or Moderna injections. What would he know — he's just a vaccine developer?
Instead of the committee-approved ones, has taken his own vaccine called Covax-19 or Spikogen. It has just been approved for use in Iran where Stage 2 and 3 trials were conducted.
He said he would stand by his vaccine and even accept liability, unlike all the current vaccine makers who demand waivers.
Professor Nicolai Petrovsky is hopeful though, that after "the excellent Phase 3 trial results" he will be able to get approval in many countries, maybe even in Australia? But our government-funded TGA won't consider it until his team pays over $300,000 so they can assess it.
You'd never know the Australian government was trying to save Australians lives, or give our citizens more choices. Perhaps because they aren't?
If they were interested, they would surely find a way to fast track the assessment process and cover the trivial cost of reading a report from Iran. The Government has spent $1.9 billion on other vaccines, but can't find 300k for the most successful Australian vaccine in years?
The situation is so comic, Petrovsky has had to resort to crowdfunding, so they can afford to
pay our government
to get approval. They have set up a GoFundMe page, which has already raised $290,000 out of the $326,000 already.
I've donated. (Don't call me anti-vax,
I put money into vaccine research
🙂 )
GoFundMe: Bring Covax-19 Vaccine back to Australia
Judging by the comments there, there are already a thousand volunteers for a trial here.
Petrovsky tells us there are great results from the latest trial in Iran but he can't make the results public yet. (He's hoping his papers on that will be accepted so he can). He claims they meet all the FDA and other requirements to be approved.
Apparently, in animal tests, after vaccination, they can challenge the animals with live virus and not only do they not fall sick, the team can find
no recoverable virus in challenge tests,
which is excellent.
There's no transmission to other animals either. He calls the vaccine "quasi sterilizing". If it's a lot less leaky that "all the rest", it may even help mop up the nastier mutations we're probably making by giving millions of people very leaky vaccines.
Wouldn't that be something?
Covax-19 apparently causes few side effects. Petrovsky claims there is no thrombosis, no fever, no myocarditis, and no myocardial infarction. No one needs to take a day off work...