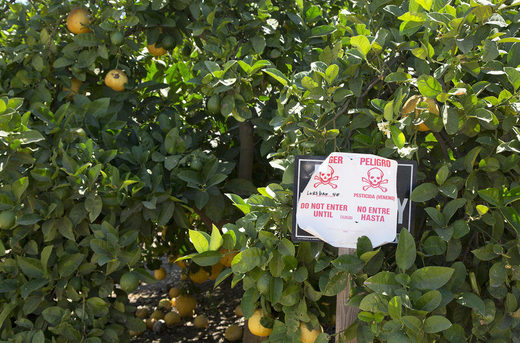 The EPA says it's reversing course and keeping
chlorpyrifos
on the market.
That's despite the agency's earlier conclusion, reached during the Obama administration, that this pesticide could pose risks to consumers. It's a signal that toxic chemicals will face less restrictive regulation by the Trump administration.
In its
decision
, the EPA didn't exactly repudiate its earlier scientific findings. But the agency did say that there's still a lot of scientific uncertainty about the risks of chlorpyrifos, and it said that because of that uncertainty, the court had no right to set a firm deadline for a decision. A federal court had ordered the EPA to decide by midnight on Friday whether to ban chlorpyrifos. The Obama administration
proposed
this ban back in 2015.
The EPA says it will keep studying the chemical.
Patti Goldman, from the environmental group Earth Justice, calls the decision "unconscionable," and says that her group will fight it in court.
New EPA Administrator Scott Pruitt made his reputation opposing the agency's regulations, and many farm organizations expected him to renounce the proposed ban. But doing so would mean disregarding a substantial pile of scientific evidence that his agency has assembled on the risks of this chemical.