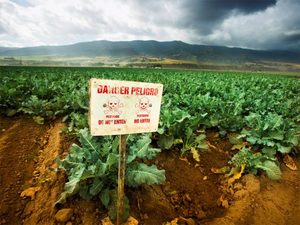 Environmental Protection Agency Administrator Scott Pruitt
denied a petition
Wednesday requesting that the agency ban the use of the chlorpyrifos on all United States food crops. Chlorpyrifos, a product of Dow Agrosciences, is an insecticide proved effective against mosquitoes, cockroaches and fire ants, which has been registered for use in the US since 1965.
The petition
dates back to September 2007, when the Pesticide Action Network North America and the Natural Resources Defense Council requested a ban of the common pesticide based on concerns over its toxicity.The petitioners, some scientists and environmental groups claim that chlorpyrifos can harm children's developing brains and nervous systems. According to the
Occupational Safety and Health Administration
, exposure to chlorpyrifos can cause a range of symptoms including nausea, vomiting, headaches, dizziness, seizures and paralysis.
But some scientists and the US Department of Agriculture argue that chlorpyrifos is not harmful at exposure levels upheld by the EPA.