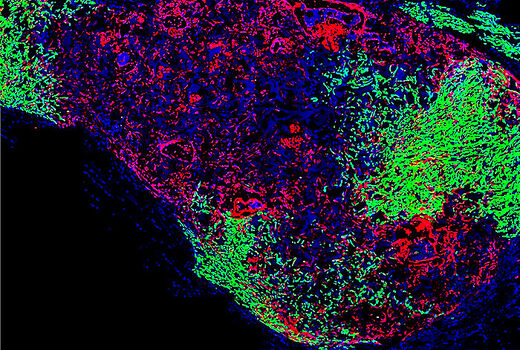 The vertebral bones that form the spine are derived from a distinct type of stem cell that secretes a protein favoring tumor metastases, according to a study led by researchers at Weill Cornell Medicine. The discovery opens up a new line of research on spinal disorders, helps explain why solid tumors so often spread to the spine, and could lead to new orthopedic and cancer treatments.
In the
study
, published Sept. 13 in
Nature
, the researchers discovered that
vertebral bone is derived from a stem cell that is different from other bone-making stem cells.
Using bone-like "organoids" made from vertebral stem cells, they showed that
the known tendency of tumors to spread to the spine
— more than to long bones such as leg bones — is due largely to
a protein called MFGE8, secreted by these stem cells.
"We suspect that many bone diseases preferentially involving the spine are attributable to the distinct properties of vertebral bone stem cells," said study senior author
Dr. Matthew Greenblatt
, an associate professor of pathology and laboratory medicine and a member of the
Sandra and Edward Meyer Cancer Center
at Weill Cornell Medicine and a pathologist at NewYork-Presbyterian/Weill Cornell Medical Center.
In recent years, Dr. Greenblatt and other scientists have found that different types of bone are derived from different types of bone stem cells. Since vertebrae, in comparison with other bones such as arm and leg bones, develop along a different pathway early in life, and also appear to have had a distinct evolutionary trajectory, Dr. Greenblatt and his team hypothesized that a distinct vertebral stem cell probably exists.