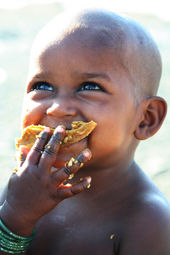 Most of the world's food is not produced by industrial megafarms.
75 percent of the world's food is produced by 1.5 billion small farmers
.
The hunger problem is not caused by low yields. The world has 6 billion people and
produces enough food for 9 billion people.
There are now
1.02 billion hungry people
in the world (nearly 50 million in the US). At the same time, there are
1 billion people who are overweight
, many who are obese and suffer from diet-related diseases.
Hunger and obesity are the result of the overproduction of toxic junk food, the scarcity of healthy organic food, and injustice in the way farmland and food are distributed.