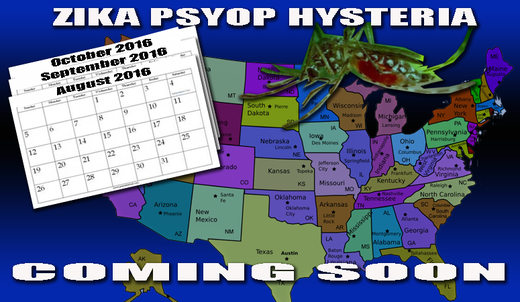 The fresh new Zika virus psyop campaign is just warming up for a late summer or fall season party as I indicated in my
last article
on this topic. It appears we are clearly headed for a season of Zika virus scaremongering and everyone should brace for this so we can expose this script in real-time. The ruling elite know very well that when it comes to scaring the general public, the tactic works more effectively when you build up to it rather than hit the audience with a sudden story. Zika virus is a classic example of this. Let's not forget that before Zika virus there was the Ebola virus psyop in 2014.
So before we go any further, let's pause for a minute and ask ourselves .... whatever happened to Ebola virus??
As we contemplate on this profound and very fair question, given that Ebola was being pushed as the virus that was going to end humanity as we know it back in 2014, let us turn our attention to the latest in the surely coming Zika virus psyop fear-party that appears will be unleashed on Americans on a grander scale very soon.