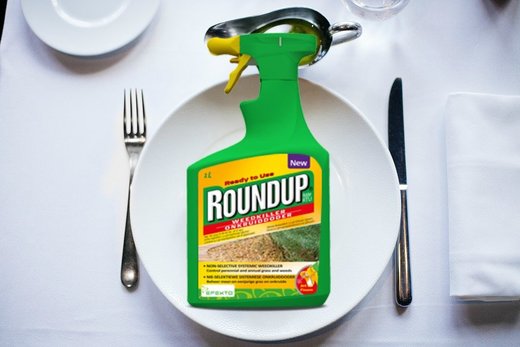 As we sit down to eat dinner, do we ever think of what's in our food besides vitamins, minerals, enzymes, protein, roughage and calories? Very few of us, I'd imagine, are aware of the fact that more than we know, not only lurks in most of the food chain, but also in us who eat food. It's almost as if some 'beastie' from the great dark foreboding beyond
contaminated just about everything we eat
resulting from 'altruistic' corporate interests disguised as supposedly saving humankind from starvation by increasing crop output. That 'beastie' is genetically modified 'phood'.
The supposed magic 'elixir' in
genetically modified food agriculture
is a Class 2A carcinogen
[1]
, glyphosate. That 'genie in the bottle' is marketed under various trade names, but more commonly known as Monsanto's Roundup, including crop seeds called "Roundup-Ready."
Roundup Ready Crops (RR Crops) are genetically engineered crops that have had their DNA altered to allow them to withstand the herbicide glyphosate (the active ingredient of Monsanto's herbicide Roundup). [2]