A revolutionary drug that stops Alzheimer's disease in its tracks could be available within a few years.
It could prevent people from reaching the devastating final stages of the illness, in which sufferers lose the ability to walk, talk and even swallow, and end up totally dependent on others.
The jab, which is now being tested on patients, could be in widespread use in as little as six years.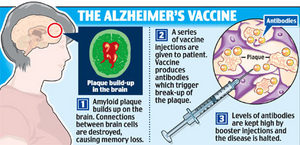 ©Daily Mail