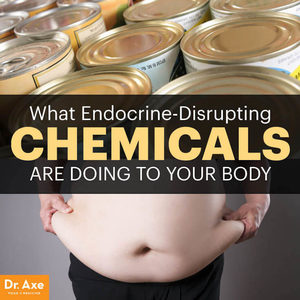 BPA's toxic effects are well-publicized. From the lining of canned foods to polycarbonate hard plastics to even the thermal coatings on cash register receipts, this is one of the world's most proven bad news endocrine disruptors. BPA is linked to everything from hormone-related breast and prostate cancers to
polycystic ovarian syndrome
and early puberty.
But did you know BPA is just one of at least a thousand chemicals or chemical mixtures that can tinker with our bodies' delicate hormonal systems, setting us up for disease?
(
1
)
Endocrine-disrupting chemicals (EDCs) like
phthalaltes
,
triclosan
and even compounds detected in
fish you should never eat
are among the 85,000-plus manufactured chemicals in use in the United States. They're found in everyday products and throughout the environment. For instance, did you know that things like
atrazine
increase
tap water toxicity
? It's true.
Research spanning the last 25 years implicates endocrine disruptors in many health problems, including male reproductive disorders, premature death, obesity and diabetes, neurological impacts, breast cancer, endometriosis, female reproductive disorders, immune disorders, liver cancer, osteoporosis,
Parkinson's symptoms
, prostate cancer, and thyroid disorders.
Our current laws clearly aren't working, and policies are needed to protect people from the harmful consequences of EDC exposure. Until Congress makes it illegal for companies to put such toxic ingredients in our products, it's unfortunately up to us to do our best to avoid hormone-disrupting chemicals.
(
2
)
But it certainly makes a strong case for electing officials who back meaningful chemical reform, doesn't it? It seems unfair busy families should have to go to these lengths just to stay safe.