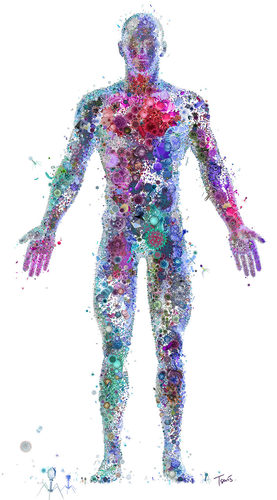 Between the mid-1990s and the mid-2000s alone, the likelihood of having a classmate with a food allergy increased by 20 per cent in the United States. In fact, over the past five decades, the incidence of all allergies and autoimmune diseases - caused by your body attacking itself - has skyrocketed. What could explain our sudden hypersensitivity to our surroundings and ourselves? Since evolution operates on the timescale of millennia, the culprits lie not in our genes but somewhere within our environment.
One thing that has changed in public health is our awareness of germs and how they spread. In response to that insight, over the past half-century our implementation of hygiene practices has spared us from debilitating infections and enormous human misery. But the new vigilance might have altered the development of our immune system, the collection of organs that fight infections and internal threats to our health.
The idea that too clean an environment might be harmful has been dubbed 'the hygiene hypothesis'. The concept has been perverted by some to suggest that the less clean the environment, the better. But its meaning is different: it is not dirt that we are missing but exposure to
certain
microbes that normally contribute to the development of our immune system.
'It's not that we aren't exposed enough to microbes but that we're not exposed to the right types of microbes,'
says the immunobiologist Ruslan Medzhitov at the Yale School of Medicine, also head of the Food Allergy Science Initiative at the Broad Institute.
So what has changed? In short, it's the standard for what constitutes a good microbe versus a bad one. 'Take bacterial species that increase nutrient absorption from food,' Medzhitov says. These were immensely beneficial at a time where you had to go days without eating. Today in the parts of the world with an overabundance of food, having such bacteria in your intestine contributes to obesity.
'Microbes that cause intestinal inflammation are another example of what we call
bad
microbes because they induce [detrimental immune] responses. But in the past, these microbes could have protected you from intestinal pathogens,'
he adds.