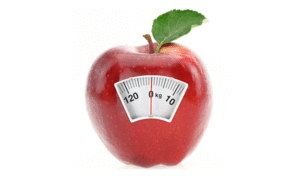 Obesity and its associated problems such as diabetes and fatty liver disease are increasingly common global health concerns. A new study by University of Iowa researchers shows that a natural substance found in apple peel can partially protect mice from obesity and some of its harmful effects.
The findings suggest that the substance known as ursolic acid reduces obesity and its associated health problems by
increasing the amount of muscle and brown fat
, two tissues recognized for their calorie-burning properties.
The study, which was published June 20 in the journal
PLoS ONE
, was led by Christopher Adams, M.D., Ph.D., UI associate professor of internal medicine and a Faculty Scholar at the Fraternal Order of Eagles Diabetes Research Center at the UI.
"From previous work, we knew that ursolic acid increases muscle mass and strength in healthy mice, which is important because it might suggest a potential therapy for muscle wasting," Adams says. "In this study, we tested ursolic acid in mice on a high-fat diet -- a mouse model of obesity and metabolic syndrome. Once again,
ursolic acid increased skeletal muscle. Interestingly, it also reduced obesity, pre-diabetes and fatty liver disease.