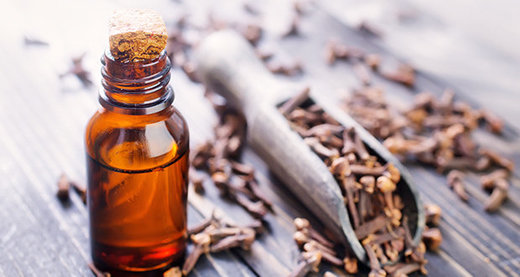 Clove, the aromatic and exotic spice, has a long history of medicinal use going back many centuries into early human history. Clove was highly regarded by the German abbess Hildegard von Bingen (1098-1179) for its medicinal properties. Clove is also well known in the traditional medicine of India and China.
Clove comes from clove trees (Syzygium aromaticum) which grow in tropical regions. Oil of Cloves (also known as clove oil or clove essential oil) is steam distilled from flower buds and stems. Clove has several interesting properties, due mainly to its high content of a phytochemical known as eugenol. Clove oil consists of about 75-85% eugenol.
Eugenol is creating interest in both conventional and alternative medicine because of its ability to effectively stop cancer cells.
Clove Oil's Interesting History
Clove has been used for centuries for numbing pain, repelling internal parasites, arthritis and rheumatism, and for treating throat, sinus, and lung infections.Clove is a natural anti-coagulant (see warning at end of article), with anti-fungal, antioxidant, anti-bacterial, anti-tumoral, anti-viral, and anti-inflammatory properties. All the important anti's!
An excellent illustration of clove's anti-viral capabilities occurred in Indonesia in the mid-17th century. The people of Indonesia's islands of Ternate and Tidore (historically called the Spice Islands) used clove extensively throughout their history for wellness. During the mid-1600's the Dutch East India Company controlled the spice trade in the Spice Islands and gained complete control of the clove trees in this area. Any clove trees discovered that didn't belong to the Dutch East India Company were destroyed, thus allowing them to have a complete monopoly of this and other spices.
As a consequence, the islanders who relied on those clove trees died from the epidemics that raged through the region, brought to them courtesy of the same Dutch colonists. Such is the power of clove to protect us.