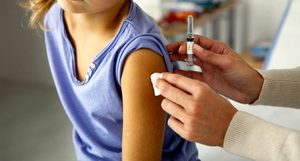 The American Academy of Pediatrics last week issued a dramatic statement to its members: It's OK to stop seeing families who refuse their shots.
The Academy also urged states to repeal laws that have allowed parents to use religion as an excuse for not getting their children inoculated.
New Jersey
has a liberal religious exemption policy
, allowing parents and guardians to submit a signed statement indicating "immunization interferes with the free exercise of the pupil's religious rights." No other documentation is required. The number of unvaccinated students is slowly climbing in the state.
An attempt to make it tougher for New Jersey families to get the religious exemption by requiring they explain how vaccines "would violate, contradict, or otherwise be inconsistent" with their religion
failed in the last legislative session.
The number of New Jersey children whose parents have requested a religious exemption has grown nearly 600 percent
, from 1,641 in the 2005-06 academic year to 9,506 in the 2014-15 year, according to the state Department of Health.