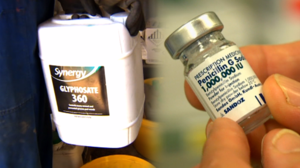 A groundbreaking study revealing that some chemicals used in common weedkillers may be contributing to the problem of antibiotic resistance, could have global implications.
Canterbury University researchers have discovered that some chemicals used in herbicides are playing a role in making bacteria resistant to antibiotics.
"If you look at how different commercial chemical products are regulated, almost never is there an assessment on the sub-lethal effects of these products, particularly on micro-organisms," said Professor Jack Heinemann of the University of Canterbury.
The newly-released findings could have implications worldwide because of the rise of superbugs for which there are no effective drugs.