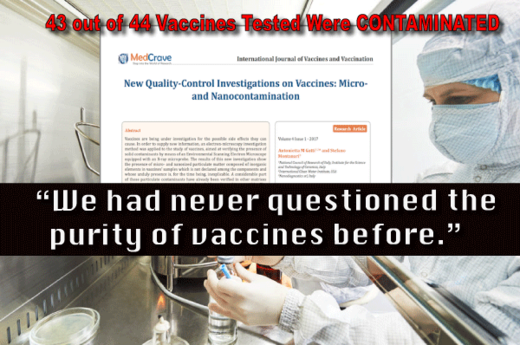 In a remarkable new study with potentially immediate and earth-shattering effects on the vaccine industry and the regulatory agencies that oversee their safety, researchers at the National Council of Research of Italy and the International Clean Water Institute, USA have found extensive and inexplicable widespread contamination of vaccines with particles that, according to the authors of the study, clearly should not be present.
The study, published in the International Journal of Vaccines and Vaccination
, examined 30 vaccines (44 samples in total), and found particulate matter, in aggregates and clusters.
The composition of those clusters, the researchers say, are consistent with "burnt waste". They also found red blood cells of unknown origin, and extensive metal contamination, including lead, chromium and tungsten.
These findings come at time when vaccines are under increasing attack for their likely role in sudden-onset and long-term disorders, including autism, ADHD.
HPV vaccines have been linked to Guillan-Barre syndrome, premature ovarian failure (sterility)
.
There is also now a consistent pattern of reports of contamination of vaccines with unwanted viruses and
retroviruses
, residue from human and pig tissues, and pathogens like bacteria.
And while ongoing controversies surround both the vaccine safety science, the US District Court (Eastern Pennsylvania) is reviewing allegations that
Merck spiked human serum samples with rabbit antibodies to increase the apparent efficacy of their MMR vaccine to avoid entry of competitor's vaccines into the market.
The authors are certain that no contaminants of this type should be present in any vaccine. In fact, in the one veterinary vaccine tested, the results came back clean - no particulates, aggregates, clusters, metals, or red blood cells.