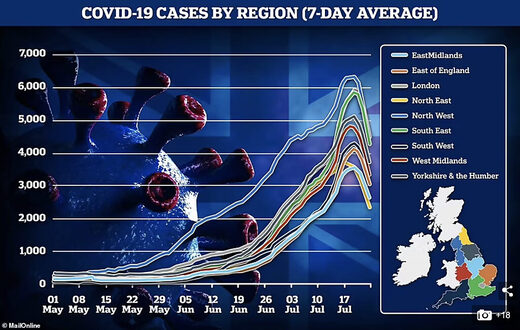 I've written a
piece
for
Mail+
today asking whether the rapid decline in daily cases since 'Freedom Day' suggests that lockdowns don't work. Here's the kernel of the argument.
For critics of the lockdown policy like me, this is beginning to look like vindication. We have long argued that the ebb and flow of the virus isn't affected by state interventions, pointing out that cases seem to rise and fall in the same wave-like patterns across similar regions, irrespective of the action taken by different leaders.

For instance, the states of California and Florida share a number of characteristics, but their governors have taken very different approaches to managing the virus. Gavin Newsom, the democratic governor of California, has imposed some of the most severe restrictions in the United States, while Ron DeSantis, the republican governor of Florida, has imposed some of the lightest. Yet the number of Covid deaths in each state are almost identical - 163 per 100,000 in California and 179 per 100,000 in Florida.