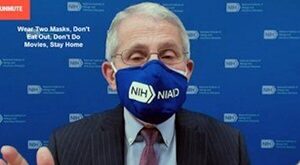 After spending 75 years making Hitler and Nazi Germany into a vision of pure evil, the worst ever to visit humanity, we find ourselves right back into the arms of fascism. In this place, freedom has no name.
Friedrich Karl Hermann Entress
was a German camp doctor who introduced the procedure of injecting lethal doses of phenol directly into prisoners' hearts. He was captured by the Allies in 1945, sentenced to death, and executed in 1947.
That was then. Now we have
Dr. Anthony Fauci
ready to do vaccine experiments on children while
ignoring the harm the vaccines are already doing to elderly populations
. "Hopefully, by the time we get to the late spring, early summer, we will have children being able to be vaccinated according to the FDA's guidance," said
Dr. Fauci
. The world is suffering from a
mass delusional psychosis
and Fauci, in significant part, is to blame. When will he be captured? Will he ever stop lying or trying to deceive masses of people?