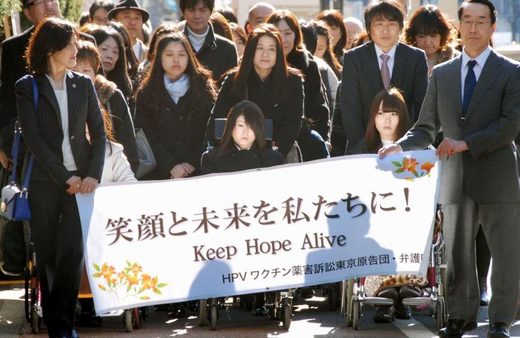 Twenty-eight girls and women
suffering what they say are side effects from cervical cancer vaccines that were recommended by the government demanded compensation from the state and drugmakers Monday as their trial opened at the Tokyo District Court.
The plaintiffs, ranging in age from 15 to 22, said they have experienced a wide range of health problems, including
pain all over their bodies and impaired mobility, after receiving the human papillomavirus (HPV) vaccines
between 2010 and 2013.
Each is demanding ¥15 million in damages.
Erina Sonoda, a 20-year-old college student, said she started to suffer strong menstrual pain after receiving the second of three recommended shots of the Cervarix vaccine, and the pain spread to other parts of her body after the third vaccination.
Due to agonizing pain, Sonoda said she has difficulty walking without a cane and often must use a wheelchair.
"I felt acute pain as if someone was squashing my internal organs. ... Such conditions have only gotten worse," Sonoda told the court while sitting in a wheelchair.