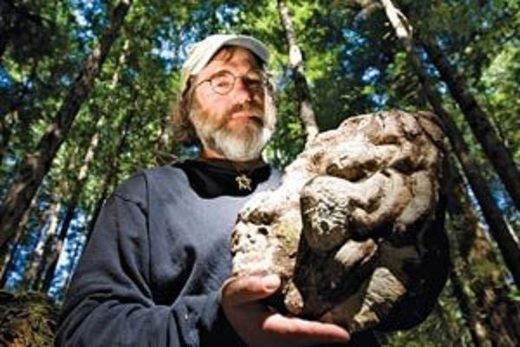 Paul Stamets is on a quest to find an endangered mushroom that could cure smallpox, TB, and even bird flu. Can he unlock its secrets before deforestation and climate change wipe it out?
In the old-growth forests of the Pacific Northwest grows a bulbous, prehistoric-looking mushroom called agarikon. It prefers to colonize century-old Douglas fir trees, growing out of their trunks like an ugly mole on a finger. When I first met Paul Stamets, a mycologist who has spent more than three decades hunting, studying, and tripping on mushrooms, he had found only two of these unusual fungi, each time by accident — or, as he might put it, divine intervention.
Stamets believes that unlocking agar­i­kon's secrets may be as important to the future of human health as
Alexander Fleming's
discovery of penicillium mold's antibiotic properties more than 80 years ago. And so on a sunny July day, Stamets is setting off on a voyage along the coastal islands of southern British Columbia in hopes of bagging more of the endangered fungus before deforestation or climate change irreparably alters the ecosystems where it makes its home. Agarikon may be ready to save us — but we may have to save it first.
Joining Stamets on the 43-foot schooner
Misty Isles
are his wife, Dusty, a few close friends, and four research assistants from Fungi Perfecti, his Olympia, Washington-based company, which sells medicinal mushroom extracts, edible mushroom kits, mushroom doggie treats, and Stamets' most recent treatise,
Mycelium Running: How Mushrooms Can Help Save the World
. "What we're doing here could save millions of lives," he tells me on the first morning of the three-day, 120-mile voyage. "It's fun, it's bizarre, and very much borders on something spiritual."