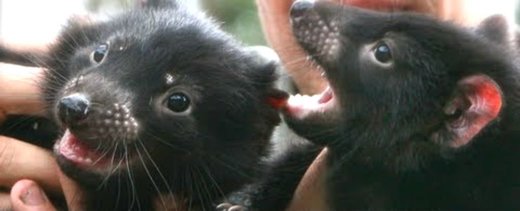 Scientists have discovered that Tasmanian devil milk contains an arsenal of antimicrobial compounds that can kill some of the most deadly bacterial and fungal infections known to science - including
golden staph
.
Tasmanian devils were found to produce six different types of these antimicrobial compounds - humans produce just one - and scientists were able to successfully synthesize them in the lab to test their effectiveness against a number of
drug-resistant
bacterial and fungal pathogens.
When tested against 25 different bacterial and six fungal strains, the six varieties of antimicrobial compounds were found to kill golden staph (
Staphylococcus aureus
) - responsible for food poisoning, pneumonia, and toxic shock syndrome - and
Enterococcus
, which can cause urinary tract infections and meningitis.
The compounds also killed
Candida krusei
- a rare yeast species
associated with high mortality
- and the deadly and hyper-virulent airborne fungus called
Cryptococcus gattii.