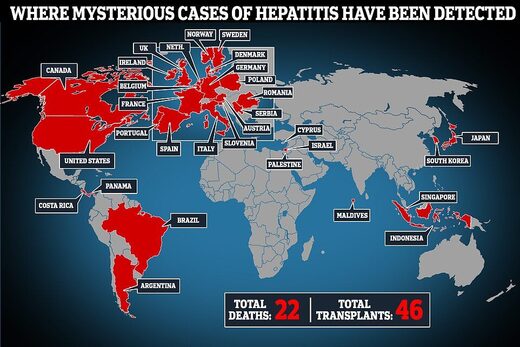 Covid itself is not to blame for the mysterious hepatitis outbreak affecting children across the world, researchers insisted today.

Comment: Who thought Covid was to blame? Covid has been around for well over 2 years now (it has been discovered to have begun circulating since late 2019) and these hepatitis cases only began at the beginning of this year.


However,
pandemic-era lockdowns may have played a role
.

Comment: Indeed, they played a role, but these cases have been identified in particular regions of the world, but not in others, meaning that it's likely there's another, more significant aggravating factor.


Scientists today pinpointed a usually-harmless virus as being the main culprit for the unusual liver illness, which
has sickened 200 youngsters in the UK and left a dozen needing transplants
.

Comment: And that's just in the UK.


Two separate studies concluded that adeno-associated virus 2 (AAV2) seems to play a 'significant role'.