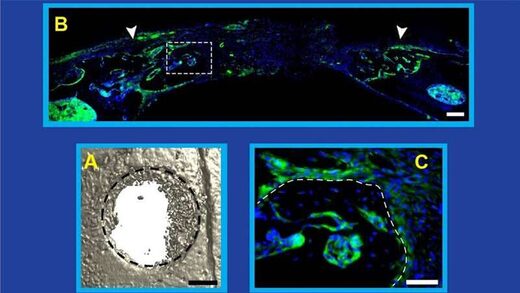 In a December 2019 study
, a team of Johns Hopkins Medicine researchers demonstrated in mice that repair of bone fractures requires the generation, growth and spread of nerve cells, or neurons, throughout the injured area.
This, they showed, partly relies on a protein known as nerve growth factor (NGF). Now, the researchers have dug deeper into this process to better understand how the nervous and immune systems work together with NGF to enable nerve regrowth during bone repair.
In a new study, published in the May 26, 2020, issue of the journal
Cell Reports
, the researchers found once again in mice that
two proteins — tropomyosin receptor kinase-A (TrkA) and NGF — bind together to stimulate innervation (the supplying of nerves), and subsequently, new
bone
at an injured site. What surprised them was that the NGF that mattered most in this process came from an unexpected source: macrophages, the
white blood cells
that alert the
immune system
to foreign invaders through inflammation, and then engulf and remove the attackers from the body.