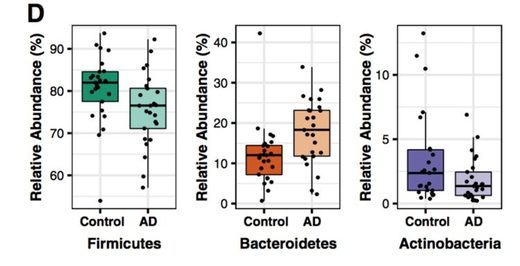 A team of researchers primarily based out of the University of Wisconsin-Madison examined the gut microbiota of twenty-five Alzheimer's patients at the
Wisconsin Alzheimer's Disease Research Center
and compared their samples with those of twenty-five control subjects matched for age, gender, and health.
Overall, Alzheimer's patients had reduced microbial diversity, as well as a few noteworthy differences in bacterial abundance.
"Alzheimer's disease participants had decreased abundance of Firmicutes and Actinobacteria, and increased abundance of Bacteroidetes compared to control participants," the researchers reported.
Firmicutes bacteria may aid in glucose metabolism. Diabetics and obese individuals have fewer of them. Many Actinobacteria, and particularly a subset called
Bifidobacterium
, are used as probiotics and possibly fight inflammation in the body. On the other hand, Bacteroides have been detected at higher levels in patients with Parkinson's disease, another neurodegenerative disorder.