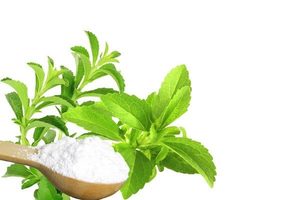 Stevia (Stevia rebaudiana), a perennial shrub native to South America, has a long history of use as a natural sweetener for food, medicines and beverages.
1
Whole stevia contains a number of substances, including various stevioside compounds, rebaudiosides and glycoside.
Steviol glycosides, including rebaudioside A, rebaudioside D and rebaudioside M (Reb A, Reb D, Reb M respectively), are what provide the sweet taste, with Reb A being the sweetest.
2
In its isolated, purified form, Reb A is 250 to 400 times sweeter than sugar.
Despite hundreds of years of safe use of stevia, the U.S. Food and Drug Administration has labeled
stevia leaf
and crude stevia extracts "unsafe food additives,"
3
granting GRAS (generally recognized as safe) status to certain high-purity steviol glycosides only.
4