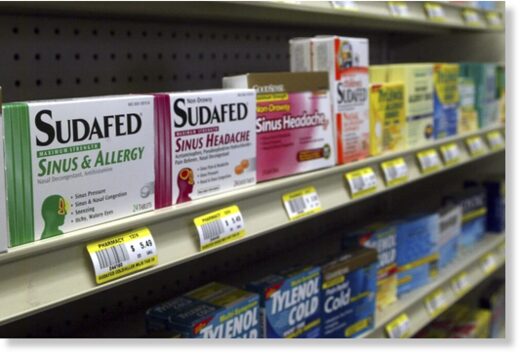 The leading decongestant used by millions of Americans looking for relief from a stuffy nose is no better than a dummy pill, according to government experts who reviewed the latest research on the
long-questioned drug ingredient
.
Advisers to the Food and Drug Administration voted unanimously on Tuesday against the effectiveness of the key drug found in popular versions of Sudafed, Dayquil and other medications stocked on store shelves.
"Modern studies, when well conducted, are not showing any improvement in congestion with phenylephrine," said Dr. Mark Dykewicz, an allergy specialist at the Saint Louis University School of Medicine.
The FDA assembled its outside advisers to take another look at phenylephrine, which became the main drug in over-the-counter decongestants when medicines with an older ingredient — pseudoephedrine — were moved behind pharmacy counters. A 2006 law had forced the move because pseudoephedrine can be illegally processed into methamphetamine.