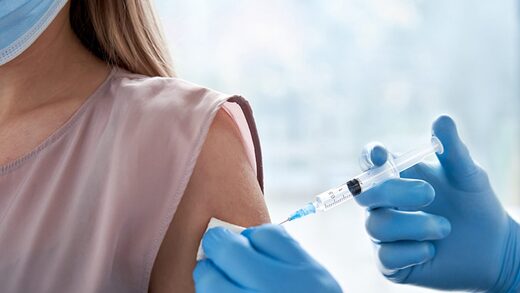 It's fashionable to talk about periods. Books on the subject, with glossy red and pink covers, are bestsellers. They have sassy titles like
Period Power: A Manifesto for the Menstrual Movement
and
Period:Twelve Voices Tell the Bloody Truth
.
The Periodical
is a podcast for 'everyone who bleeds, and their friends'. And this being our ultra-capitalist world, you can obviously buy a T-shirt, notebook or phone cover with a period-related slogan slapped across it. 'Anything you can do, I can do bleeding' is one mantra.
I admit to having not engaged much with this world. My period has always seemed to me a private matter, of no interest to anybody else and only vague interest to myself. I feel a little uncomfortable bringing the subject to the pages of
The Spectator
. I do so because
I was interested to read that British women have made 30,304 reports of changes to their periods after having received a Covid vaccine. I realised I am one of them.
I will spare the details but suffice to say that
after I had my first jab of Pfizer in late May, my cycle was flung off course.
I did consider reporting it to the MHRA's Yellow Card scheme, through which people can voluntarily report any suspected side effect from the jabs, but confess I felt silly to worry. It wasn't exactly a blood clot or a heart murmur. When I had my second dose, the man in the booth asked whether I had experienced any side effects. I mentioned the changes to my period. He logged it on my file, said it would be flagged to the MHRA scheme and
a minute later a doctor rushed in to reassure me there was 'no reason to be concerned that the Covid jab would affect my fertility'. I hadn't asked if there was.