San Diego, CA - Dozens of giant squid washed ashore over the weekend after an earthquake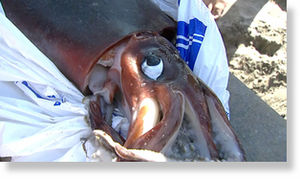 struck offshore from La Jolla.
The magnitude 4.0 earthquake struck at 7:34 a.m. Saturday and was centered 19 miles west of La Jolla in the ocean. Residents said the rattling lasted 15 to 20 seconds, but there were no reports of injuries or damage, according to the San Diego Fire Department.
The temblor was felt throughout the county, and residents are used to getting jolted by earthquakes. But what happened next was more unusual. Dozens of Humboldt squid, three to four feet long and weighing close to 40 pounds, began showing up on La Jolla Shores beach, lifeguards reported.
"It's like their equilibrium is all messed up and they don't know what they're doing and they can't back out there," Bill Baumann told the
San Diego Union-Tribune
. "It was like they got -- I don't know -- all shook up."