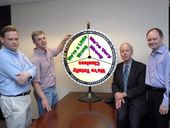 Climate science took another step backward last week as a new study from the Massachusetts Institute of Technology was
announced
which claims global warming by 2100 will probably be twice as bad as the United Nations Intergovernmental Panel on Climate Change (IPCC) has predicted.
The research team examined a range of possible climate scenarios which combined various estimates of the sensitivity of the climate system with a range of possible policy decisions to reduce greenhouse gas emissions which (presumably) cause global warming. Without policy action, the group's model runs "
indicate a median probability of surface warming of 5.2 degrees Celsius by 2100, with a 90% probability range of 3.5 to 7.4 degrees
".
Since that average rate of warming (about 0.5 deg. C per decade) is at least 2 times the observed rate of global-average surface temperature rise over the last 30 years, this would require our current spate of no warming to change into very dramatic and sustained warming in the near future.
And the longer Mother Nature waits to comply with the MIT group's demands, the more severe the warming will have to be to meet their projections.